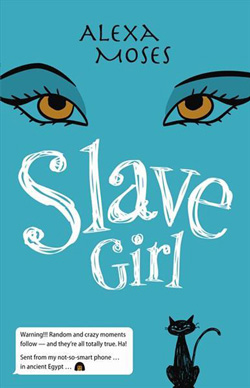 Thirteen-year-old Australian exchange student Jenna has nabbed an appointment in New York's coolest hair salon, but when her teacher insists she stay with the group at the boring Metropolitan Museum, she storms off in a rage and stumbles into what she thinks is a fancy-dress party. And it is a party. In Ancient Egypt. 3500 years ago.
Once Jenna accepts she's really travelled back in time, she realises she has to work out a way home — with only her big mouth, a smart phone and a pair of second-hand Marc Jacobs sandals to get her out alive.
Jenna's attempts to bluff her way out of her precarious situation are often valiant, sometimes ingenious, and always funny.
Slave Girl is the first of a series published by HarperCollins Australia, starring the audacious Jenna Bookallil-Brown as she bluffs and dodges her way through the past.